Toddlers are small people with a lot of energy which either need to use it or find a way to get it out. But, their resistance to the movement shouldn't discourage parents from continuing the habit of keeping their children fit.
If you are a parent, then the odds are that your toddler has already grown tired of the usual games and is ready for something new. The best way to keep them engaged? Introduce an exercise routine in their daily routine! You will not only find yourself less frustrated with your energetic child but also empowered by their newfound passion for being active.
Here are some great ways to keep your toddler fit:
1. Take Them to a Dance Class
Most toddlers enjoy music and moving their bodies to the beat. A toddler dance class is a perfect way for them to burn off some energy while also learning coordination and social skills. Dance classes also help to develop gross motor skills.
2. Go For Walks or Runs Together
Fresh air is always good for everyone. Go for a walk or run around the block together and make it into a game by seeing who can spot the most birds or cars. Walks are also a great way to bond with your toddler and chat about their day.
3. Turn Household Chores Into a Workout
Cleaning up doesn't have to be boring! Put on some upbeat music and make a game out of it by seeing who can pick up the most toys in a minute. This is a great way to sneak in some exercise while also teaching your toddler about responsibility.
4. Play Active Video Games Together
Many video games nowadays require players to get up and move around, which is great for toddlers. Dance along with them or play tag while they try to catch virtual monsters on the screen.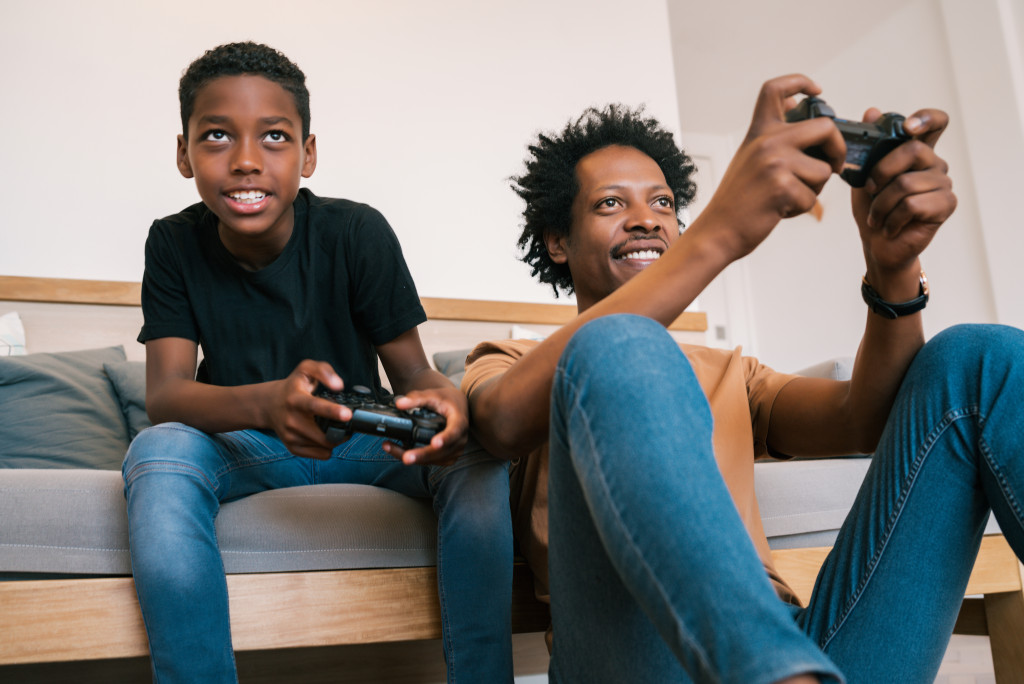 5. Have a Water Balloon Fight
Water balloon fights are always a hit with toddlers. Not only will they love getting wet and wild, but they'll also get a great arm workout from throwing the balloons around. Water balloon fights are a great way to beat the heat and have some fun at the same time.
6. Visit the Playground
Swinging, sliding, and climbing are all excellent exercises for toddlers. Plus, they'll have a blast playing on the monkey bars and other playground equipment. Playground visits are also a great opportunity for socializing and making new friends.
7. Play Catch or Soccer in the Yard
These classic games are not only fun but also great for developing coordination and motor skills. Play catch with a softball or have a family kickabout with a soccer ball. Either way, your toddler will love being outdoors and getting some exercise.
8. Ride Bikes or Scooters Together
Riding bikes or scooters is a great way to explore the neighborhood while getting some exercise. Just be sure to keep an eye on your toddler and give them plenty of breaks.
9. Jump on a Trampoline
Jumping is a great way to get the heart pumping and burn off some energy. Set up a small trampoline in the backyard and let your toddler jump to their heart's content.
10. Have a Hula Hoop Contest
Hula hooping is a fun way to get the whole family moving. See who can hula hoop the longest or make up your own rules for a hula hoop game. Hula hooping is a great way to burn calories and have a blast at the same time.
11. Play Tag
Tag is a timeless game that can be played anywhere. It's also a great way to get your toddler moving and laughing.
12. Do Some Yoga Together
Yoga is a great way to exercise and relax at the same time. There are even yoga classes specifically for toddlers. Give it a try and see how much your little one enjoys it. Yoga is also a great way to bond with your toddler and teach them about mindfulness.
13. Go For a Swim
Swimming is not only a great workout but also a lot of fun for toddlers. If you have access to a pool, take your toddler swimming as often as you can.
14. Ride Horses
Riding horses is a great way to get outside and explore the world. If you don't have a horse, consider taking your toddler to a local stable for a lesson or two.
15. Play T-Ball
Playing t-ball is a great way to teach your toddler about teamwork and sportsmanship. It's also a lot of fun and can be played in the backyard or at the park.
There are plenty of ways for toddlers to get active and have fun. The exercises listed above are just a few examples, but they should give you a good starting point. Just be sure to keep an eye on your toddler and take breaks as needed. Exercising with your child is a great way to bond and teach them about healthy habits.